December 7th, 2023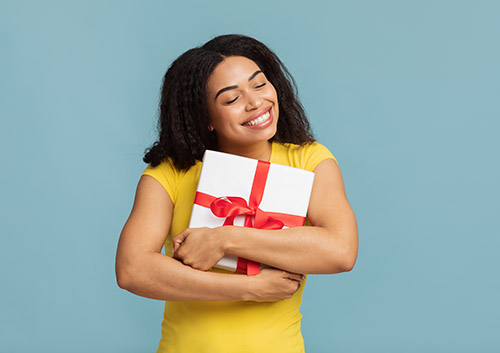 It's the season of giving and the start of a new year. What better time to gift yourself with the orthodontic treatment you've always wanted?
Orthodontic treatment isn't just for children and teenagers. In fact, adults make up a significant—and growing—number of new patients looking forward to beautifully aligned teeth and a healthy bite.
And because today's orthodontic treatments are more comfortable, take less time, and are less visible than ever before, they are a great fit for your busy adult life. You also have many more options from which to choose, including:
Traditional braces are a proven method of aligning your teeth and bite, can be more economical than other options, and are often most effective in treating complicated orthodontic issues.
If traditional braces are best for your needs, you'll be happy to hear that today's braces are better than ever. Brackets are smaller. Innovative wire technology makes the orthodontic process even more efficient. And with self-ligating brackets, there's no need for those colorful little bands around each bracket to hold those wires.
If you're looking for something more inconspicuous, consider ceramic brackets. These ceramic or porcelain brackets are color-matched to your teeth, and, especially used with clear bands and lighter wires, create a less visible profile.
This is your most discreet option, because these braces are located on the inside of the teeth. Lingual braces are custom designed, so they can be more expensive, and treatment can take a bit longer, but they are perfect for those who want invisible braces for personal or professional reasons.
Clear aligners can treat many orthodontic conditions, including some complicated malocclusions. Your orthodontist can let you know if these removable, comfortable, and subtle aligners will work for you.
Adult orthodontics can give you the confident smile you've always wanted, which is reason enough to seek orthodontic treatment at our Langley office. And perfectly aligned teeth and a healthy bite have dental benefits as well as mental benefits!
Reduce the Risk of Cavities and Gum Disease
Crooked and overlapping teeth are harder to keep clean. Getting in between the teeth to remove all the food particles and plaque can be difficult even with the most careful brushing and flossing. Built up plaque increases your risk of cavities, irritates delicate gum tissue, and causes gum disease.
Prevent Tooth and Jaw Injuries
If your jaws have never fit together properly, you've probably experienced at least some of the consequences of a malocclusion, or bad bite. Worn and cracked teeth, damaged fillings and crowns, jaw pain, headaches, difficulty breathing—all of these problems can be caused by a misaligned bite.
If you've always wanted orthodontic treatment, talk to Dr. Cronin to discover the possibilities. A more confident appearance, reduced risk of cavities and gum disease, a comfortable, pain-free bite—there's no better gift to give yourself than a lifetime of healthy smiles!